WHY CHOOSE EEC BALIKBAYAN BOX?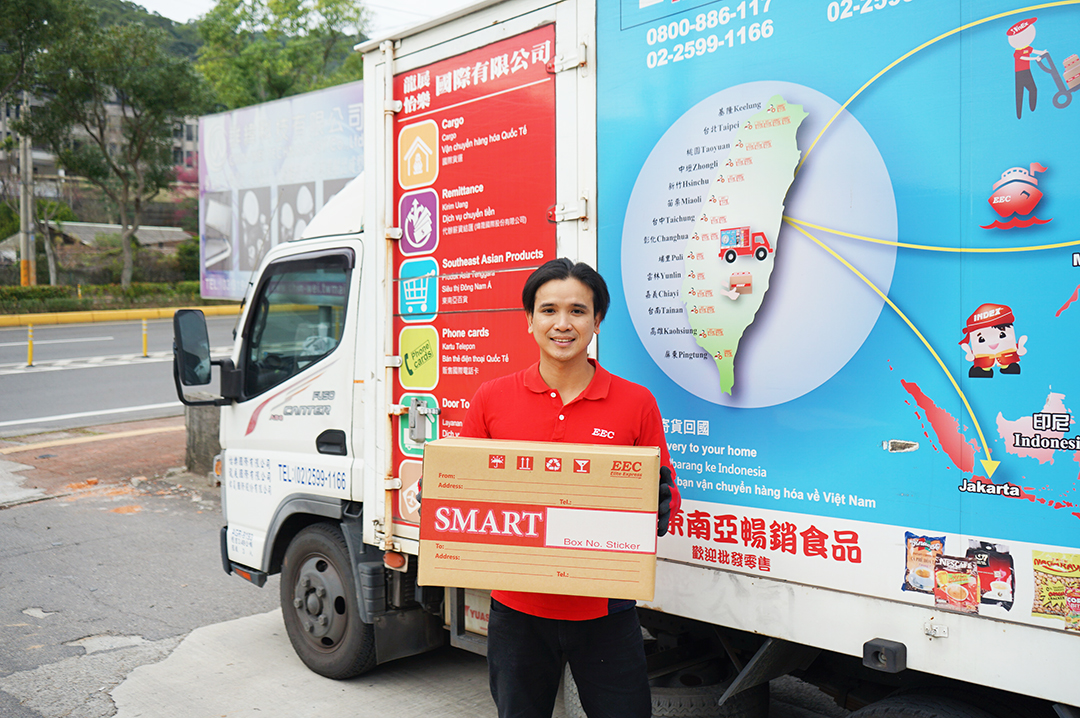 ​We are the pioneer in the personal effects cargo delivery business to the Philippines and have extended our services to other Southeast Asian countries such as Indonesia and Vietnam.
We guarantee a fast, safe, and reliable delivery service in all three of these countries, making our company the preferred brand of migrants and overseas workers in Taiwan.
Our sea cargo packages are not limited by weight, but according to the box sizes and destination, and customers' package is delivered safely.
We provide convenience to our customers by providing free delivery and pick-up services. They can also order boxes through phone calls or they can also opt to pick up
from their nearest EEC service station.
Balikbayan Box Size and Prices


For Balikbayan boxes prices please

CLICK HERE>>>>
EEC BALIKBAYAN BOX Cargo Service Advantage
We have a weekly schedule delivery to the Philippines, with our improved logistics system, two weeks is the fastest and one month is the slowest delivery marking the best record among sea cargo counterparts in Taiwan, affirmed and testified by our customers.
Cargo insurance: Accident and Goods insurance, etc
Reasonable price
Provide a variety of different box sizes.
Free packaging tape
Box directly delivered to designated locations in the Philippines
Just a call, we'll deliver and pick-up your box fast and on time.
Shipping Process
1. You can order the empty box and we will deliver it to your address. You can call us at 02-25958686 or DM (direct message) us at our EEC official Facebook Page
. You can also go to any of our
EEC Service Stations
near you (check EEC Stations )
2. Once the empty box is delivered, kindly pay NT500 for the box deposit. Make sure not to lose the Packing List with Box Deposit Receipt. Full payment of the balance will be collected upon pick-up.
3. Make sure there are no
prohibited or illegal products
in the box. Send fragile items at your own risks. Make sure to pack them well and place them in the middle of the box.
4. Fill-up the Packing List completely with the complete Sender and Receiver's information with active contact number.
5. Call the EEC customer service 02-25958686 or DM (direct message) us at our EEC official Facebook Page for the pick-up schedule of the box.
6. Consider some unexpected delays due to holidays, weather, port congestions and other unforeseen events
7. If you want to track your packages, please go to our
tracking webpage
. If the status of your box is not shown, DM (direct message) us at our EEC official Facebook Page or you can call us at 02-25958686
Notice To Shipper
Reminders and Instructions on how to send EEC and Manila Cargo Balikbayan Boxes to the Philippines
Read carefully your Packing List and take note of the Important Notice.
Do not over-pack your cargo. Be aware of the additional charges for oversized cargo – NT$100 per inch.
Be sure that information on your actual cargo is the same as you've written on your Packing List.
Write down everything including quantity.
Please state if items inside your box are new or old.
Please write clearly and complete all the information on both the Shipper and the Consignee.
Please do not write on the space provided for EEC Express Cargo personnel.
Please do not forget to sign on the space provided for Shipper's Signature.
Please wrap all liquid items in separate plastic bags. EEC Express Cargo Co. Ltd. assumes no liability for perishable or leakage of any liquid regardless of package orientation.
Protect all breakable items. EEC Express Cargo Co. Ltd. is not liable for any damages incurred during transport. All packages must be prepared and packed by the Shipper for safe transportation.
Only PERSONAL EFFECT items are to be accepted and shipped. Commercial items checked and penalized by the Philippine Bureau of Customs shall be accounted to the Shipper.
EEC Express Cargo Co. Ltd. will not accept and carry any of the following >>PROHIBITED items:
EEC Express Cargo Co. Ltd. has the right, but not obligated, to open or inspect any shipments made by the Shipper.
EEC Express Cargo Co. Ltd. is not liable for boxes/parcels that are lost, damaged, misdelivered, or delayed due to circumstances beyond EEC Express Cargo Co. Ltd.'s control. These include Earthquakes, Whirlwinds, Cyclones, Storms, Floods, Volcanic Eruptions, War, Civil Strikes, and any other Force Majeure events.